You are here
Replication
Sat, 2016-01-02 15:50

—

oli
The replication overview of a new (= empty) Ops Center looks as follows:
When you clicked Add Replication you get a mask where you can specify a MySQL replication set-up:
In the mask to add or edit a replication you have to enter:
a replication name (this name must be unique in your company).
the type of replication (Master/Master or Master/Slave).
which database is the master.
which databases are Slaves and specify their specific master.
In the replication overview you can see all the replication set-ups you have under Ops Center control:
In the replication configuration overview you edit or delete a replication again or just remove one slave:
In the replication checks tab you get all the important information of the master and all its slaves:
In the replication operations tab you get a short overview over the master and the slave and you can run some control commands for the slave like:
Stopping slave
Change slave to new master
Skip events on slave
Reset slave and
Start slave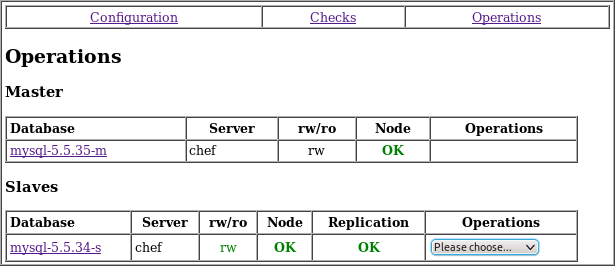 When you set-up a new slave or when you want to change a slave to a new master you have to click the Change Master operations option. Then you get the possibility for changing all the connect parameters for a new master: